Quest Outreach Society is grateful for the $25,000 grant from Agriculture and Agri-Food Canada (AAFC) through its Local Food
Infrastructure Fund (LFIF), which assisted us with the acquisition of a new 5-tonne reefer truck for use in our Food Recovery & Redistribution Program which makes healthy, affordable food and important necessities accessible to food insecure individuals across the Lower Mainland.
News Bites: a little something to chew on from Quest…
2021 Update (Jan-May 2021)
Over the last 5 months, the Quest team has become more resilient and engaged, and we are more committed than ever to providing the best shopping experience for our customers.
Executive Director Update – Thank you to our Interim Executive Director, Lillian White for five months of dedicated leadership.  We are pleased to announce that our new Executive Director, Theodora Lamb will join Quest on June 28th.


Growing Fresher by the Day – In collaboration with customers, staff members, and key stakeholders, Quest developed and implemented a strategy to ensure a reliable supply of key fruits and vegetables on a daily basis. Just a couple months into the program, we have seen an average daily increase of 40% in sales and are looking forward to seeing that number climb in the months ahead. In order to support our commitment to fresher product we are expanding our cooler capacity by 230 sq. ft. which will allow us to accommodate another 16 pallets of perishable product.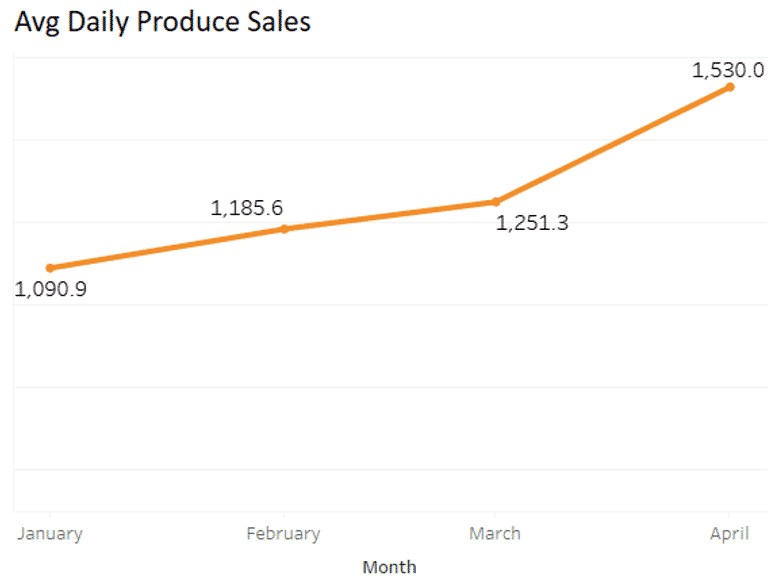 Dairy & Protein Join the "Fresher" Movement – The focus on fresh fruits and veggies has been so successful, Quest has decided to expand the Fresher by the Day Program to include high demand protein and dairy products, ensuring our customers have a consistent and varied selection of these items, all day, every day.

Access to healthy affordable food and reducing hunger with dignity for those in need is best captured in the words of Quest customers and staff:
"Fresh Foods are essential for healthy diets and I give you folks full marks for the produce area- selection is broader and the display presentation is much improved." (Quest Market Customer)
"Quest is on a mission to provide good quality fresh produce to our customers on a daily basis. I am happy and proud to be a part of the Quest team and working for a good cause." (Wen C)
Focus on Quality and Safety – To further sustain the fresh food strategy, Quest recently installed remote temperature controls in the coolers and freezers of our five markets and our distribution center to improve quality, food safety and reduce waste.
New Wheels for Quest – A new 5-ton reefer truck will join the Quest fleet in mid-July, allowing us to collect and redistribute more food, safely and reliably, throughout the Lower Mainland. The acquisition of this truck was made possible in part by the Ministry of Agriculture and Agri-Food through its Local Food Infrastructure Fund.  We are grateful for this invaluable support.
Shopping at Quest – With an automated referral process, and new customer photo ID, it's never been easier to become a customer at Quest.
Re-opening Update – As the COVID-19 provincial re-opening plan advances, Quest is looking forward to welcoming back our corporate volunteer groups (maximum 6 people), increasing the number of shoppers in our markets at any given time and extending our market hours. 
AGM Update- More information on the AGM time and date to follow. We apologize for the delay, but unforeseen events related to our bylaws and virtual meeting during the pandemic have arisen and need to be resolved before we can proceed.